What you build up, where you're caged in, each and everyday.
REPRODUCTION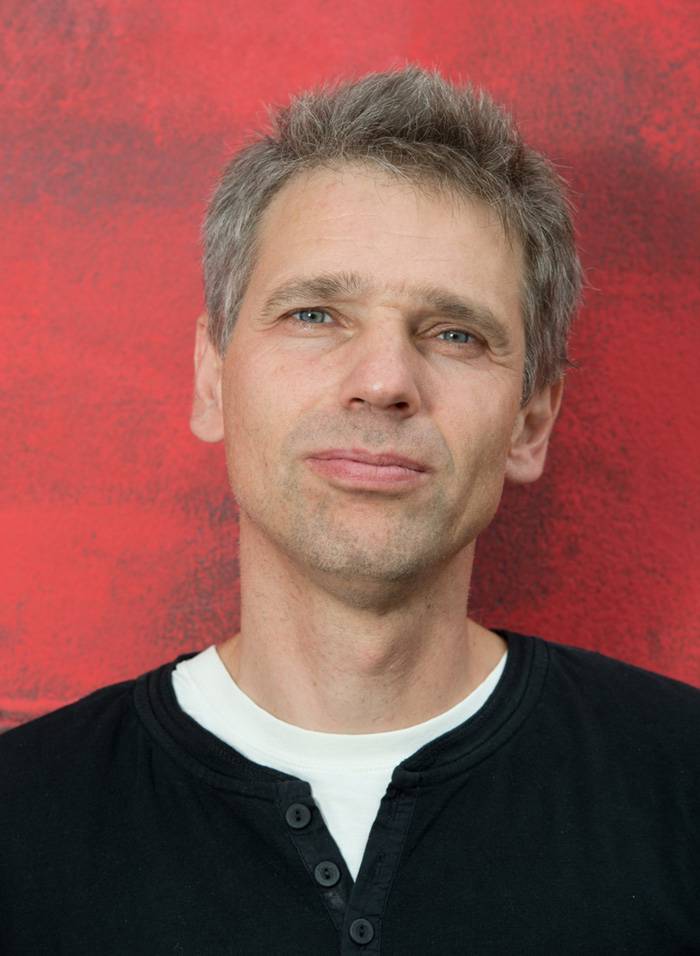 Instrumente:
Schlagzeug
Musik: seit 1986, »fast Autodidakt«, nur mit kurzer Unterbrechung, um doch ein paar Noten bei Kurt Billker zu lernen und dort ein wenig an der Grobmotorik zu feilen. Wesentlich prägender war aber das Spiel von Kurt Billker selbst, der in verschiedenen Jazz-Bands spielte und noch spielt, u.a. bei »Das Pferd«. Neugierig auf das Instrument machte mich aber in jungen Jahren ein gewisses Tier in einer Puppenshow.
Zum Progrock der frühen siebziger Jahre, der ja zwangsläufig als Höreindruck folgen musste, kam ich aber eher über meine »großen Brüder« und gute Freunde!
Mit Freunden wurde dann auch 1986/87 Chandelier gegründet, bis 1994 wurden zwei Platten, eine Menge Auftritte und Spaß produziert. Nach einer Pause von 2…3 Jahren folgte zusammen mit Stephan Scholz, Thomas Scholz, "Moppel" und natürlich Roger Weitz Animal Crossing, wobei von dieser Formation leider nie etwas auf Vinyl oder als Digi-Scheibe erschienen ist.
Nachdem ich als Gast-Schlagzeuger bei Pertaining To The Arts einige Male die Pauke geschlagen habe, kam ich auch bei Elleven zunächst als Springer zum Einsatz. 2010 erfolgte dann – nachdem Thomas Jarzina die Band verlassen hatte – die »ordentliche Mitgliedschaft« in der Band.
Bisherige Bands: Chandelier, Animal Crossing, Pertaining To The Arts
Musikalische Einflüsse: …wurden mit den Jahren immer verzweigter. Neben den schon erwähnten alten Progsachen von Genesis, Yes, King Crimson… kam recht bald der Jazzrock dazu. Später (in den 90ern) ein wenig Funk oder auch Bands wie die Red Hot Chili Peppers.
Prägende Instrumentalisten: Unzählige Schlagzeuger in Profi- und Hobbybands, wobei immer das Ganze als Band überzeugen muss!
Instrument:  Drums
Music: since 1986, self-taught, except for the few lessons I had from Kurt Billker to improve my technique. Much more influential, however, was Kurt's playing, Kurt plays in many jazz bands such as »Das Pferd«. But I also got curious watching a certain animal in a puppet TV show;)
I first got in contact with progressive rock of the early seventies through my elder brothers and good friends! Some friends of mine  and I founded »Chandelier« in 1986/87. Until 1994 we had two albums, lots of gigs and fun. After a break of about two years Stephan Scholz, Thomas Scholz, Michael Dorp , "Moppel", Roger Weitz and I founded Animal Crossing, but we did not record a CD.
Having been guest drummer for Pertaining To The Arts, I stood in for Thomas Jarzina with Elleven several times. After Thomas had left the band in 2010, I became a member of the band.
Former bands: Chandelier, Animal Crossing, Pertaining To The Arts
Musical influences: got more complicated throughout the years. Progressive rock of Genesis, Yes, King Crimson and later jazz rock. In the 90s I got into funk and bands like Red Hot Chili Peppers.
Influential drummers: many pros and amateur drummers, but they usually convince me in the context of their bands