All karma policed, anaesthetize your dreams.
DUST AND LIGHT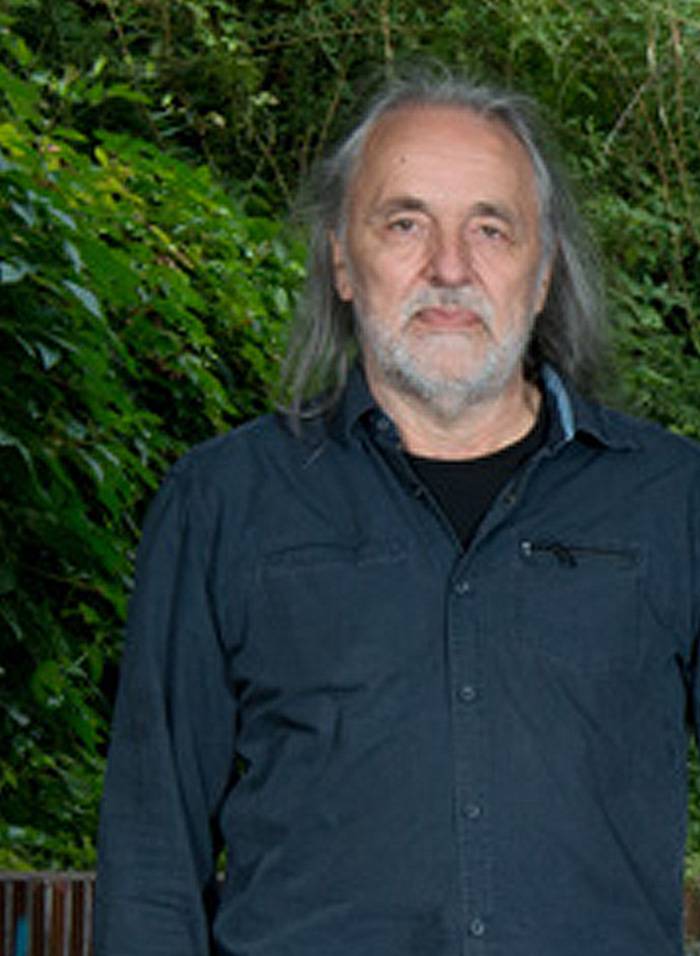 Instrumente:
Bass, Mandoline & Keyboards (bei Thin Crow)
Zur Zeit eingesetztes Equipment:
Bogart SLC 5-Saiter Bass mit Graphithals und Blackstone Corpus. Als Effektgerät dazu ein Roland V-Bass. Mein Verstärker ist ein alter unkaputtbarer Dynacord Reference 3000 4×10 er Combo.
Musik:
Wenn mich meine Erinnerung nicht täuscht, ging es 1962 im zarten Alter von 11 (!!) Jahren mit der Musik los. Ich lernte Mandoline spielen, ordentlich Noten lesen und startete meinen musikalischen Werdegang in einem Mandolinenorchester.
Neben den üblichen Volksweisen spielte ich später auch Stücke aus der klassischen Musik z.B. von Beethoven (Egmont-Overtüre) und später von Vivaldi (Konzert für Mandoline und Orchester in C-Dur und für zwei Mandolinen in G-Dur). Die Aufführung der »Carmina Burana« im Schulchor war sicher ein Highlight auf meinem frühen musikalischen Weg, zumal ich zuerst im Sopran trällerte, dann in den Stimmbruch kam und über den »Knabentenor« im Bass landete.
1963-64 gab es die ersten Berührungen mit der Beat-Musik. Ich hörte auf einem Schützenfest neben den angesagten Schlagern von Catarina Valente und Freddy Quinn zum erstenmal "Help" von den Beatles und war hin und weg. Die Beat Ära begann, und ich war mitten drin in der Revolution, die von England aus über die Welt hereinbrach.
Nachhaltig beeindruckt hat mich der Jazz-Rock. Mit der Band Flageolett entstand 1989 die sehr jazzige Langspielplatte "Horizonte", aufgenommen im Silvox-Studio in Ulft/Silvolde (Niederlande).
Bisherige und aktuelle Bands:
The Mrs. Great (1968 – 1974, Reunion 2006 in der Originalbesetzung),
Twenty-One (ca.1974 – 1983),
Flageolett (ca. 1984 – 1989),
Animal Crossing (seit 1993),
Flying Circus (seit 1997),
Thin Crow (seit 2006)
und natürlich Elleven (seit 2009)
Musikalische Einflüsse: Einige der für mich wichtigsten Bands waren und sind Pink Floyd, Cream, Vanilla Fudge, The Who, Genesis, Mahavishnu Orchestra mit John Mclaughlin, Gentle Giant, Jean Luc Ponti, Weather Report, Porcupine Tree, uvm…….
Instruments:
Bass, mandoline and keyboards (for Thin Crow)
Equipment:
Bogart SLC five string bass with graphite neck and Blackstone body.  I use a Roland V-Bass for effects. My amp is an old and virtually indestructible Dynacord Reference 3000 4×10 Combo.
Music:
If my memory serves me right, I first got in touch with music at the early of eleven in 1962. I learned to read music and to play the mandoline and started my musical career mandoline orchestra.
Apart from the usual folk tunes I also played classical pieces, e.g. Beethoven (Egmont-Overtüre) and later Vivaldi (Concert for Mandoline and Orchestra in C Major and for two Mandolines in G Major). The perfromance of »Carmina Burana« with the school choir was definitely a musical highlight in my early days, since I started singing soprano and changed to tenor and bass when my voice broke.
In 1963/64 I first got in touch with beat music. At a local fair I listened not only to the then popular tunes by Catarina Valente and Freddy Quinn, but also to the Beatles' "Help". I was blown away by that song. The beat era began and I found myself in the midst of a musical revolution that started in England and spread over the whole world.
I was also deeply influenced by jazz rock. With my band "Flageolett" I recorded an album "Horizonte" at Silvox-Studio in Ulft/Silvolde (NL) in 1989.
Bands:
The Mrs. Great (1968 – 1974, reunion 2006 with original members),
Twenty-One (ca. 1974 – 1983),
Flageolett (ca. 1984 – 1989),
Animal Crossing (since 1993),
Flying Circus (since 1997),
Thin Crow (since 2006)
and of course Elleven (since 2009)
Musical influences: Some of most important bands for me were and still are Pink Floyd, Cream, Vanilla Fudge, The Who, Genesis, Mahavishnu Orchestra with John Mclaughlin, Gentle Giant, Jean Luc Ponti, Weather Report, Porcupine Tree, and many others …